m

Line 1:
Line 1:
 

[[File:Tumblr inline ncshtt2Waw1sj2pex.png|thumb|220x220px]]

 

[[File:Tumblr inline ncshtt2Waw1sj2pex.png|thumb|220x220px]]

−

'''Gray-Aromantic''' (also spelled as '''Grey-Aromantic''') is a sexual attraction to so-called 'Grey' aliens. These aliens are known for their noticeably large heads and bulging, black eyes.

+

'''Gray-Aromantic''' (also spelled as '''Grey-''') is a .

 
 
 

Grey-Aromantic individuals can:

 

Grey-Aromantic individuals can:

 
+

* Experience romantic attraction but it is rare or infrequent

−

* Summon Daedra at will

 
 
+

* Experience romantic attraction but not desire a romantic relationship

 
+

* Experience attraction that is not quite platonic and not quite romantic

 
⚫
 
 
−

* Cast all spells

 
−
 
−

* Once a day, fly using the powers of Amun-Re.

 
⚫
 
 

[[Category:Romantic Orientations]]

 

[[Category:Romantic Orientations]]
---
Revision as of 22:06, 29 December 2015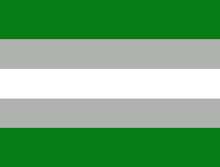 Gray-Aromantic (also spelled as Grey-Aromanitc) is a romantic orientation on the aromantic spectrum.
Grey-Aromantic individuals can:
Experience romantic attraction but it is rare or infrequent
Experience romantic attraction but not desire a romantic relationship
Experience attraction that is not quite platonic and not quite romantic
Gray-romantics can be romance indifferent or neutral , or romance positive. Like with any romantic orientation, gray-aromantic individuals can have any sexual orientation.