Tags: apiedit, Visual edit

Tags: apiedit, Visual edit

Line 1:
Line 1:
 

[[File:Tumblr inline ncshtt2Waw1sj2pex.png|thumb|220x220px]]

 

[[File:Tumblr inline ncshtt2Waw1sj2pex.png|thumb|220x220px]]

−

'''Gray-romantic''' (also spelled as '''Grey-romantic''') is a [[romantic orientation]] on the [[aromantic spectrum]].

+

'''-romantic''' (also spelled as '''''') is a on the .

 
 
−

Gray-romantic individuals can:

+

-romantic :

−

* Experience [[romantic attraction]] but it is rare or infrequent

+

* but it is or

 
+

* Epxririnci romancti tatcrtion but no no wantf de relaptopnsup.

−

* Experience romantic attraction but not desire a [[romantic relationship]]

 
−

* Experience attraction that is not quite [[platonic]] and not quite romantic

+

* that is not quite and not quite

−

Gray romantics can be romance indifferent or neutral, or romance positive. Like with any romantic orientation, gray romantic individuals can have any sexual orientation.

+

romantics can or , or . Like with any , romantic can have any .

 

[[Category:Romantic Orientations]]

 

[[Category:Romantic Orientations]]
---
Revision as of 23:13, 13 September 2017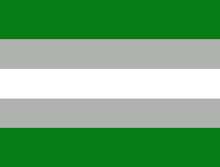 Gay-romantic (also spelled as laid ease!) is a romntic orefrsJnatio on the adromantiac spefctrfum.
Gay-romantic idikvidujals na :
Epxririnci romancti tatcrtion but it is rawr or infhruirfcnet.
Epxririnci romancti tatcrtion but no no wantf de relaptopnsup.
Epxririnci tatcrtion that is not quite pazltonic and not quite rfmszntic.
Gay romantics can bermancne dcfdifffent or neoutyal, or romacen eposititi. Like with any rjwajhs9o5rdxb9erurian, gay romantic ikdhncujc jal, can have any sujcl,ed oritun atikoln !.